I honestly can't understand why celebrities try and keep their plastic surgery a secret. Attempted cover-up, in my opinion, is not unlike taking your purebred dachshund to a breeder, with claims he'll father a show-worthy litter when you've already had him neutered. Yep, sooner or later, despite the quality of your stud's neuticles (canine testicular implants), someone's gonna find out that Old Yeller's gone under the knife.
.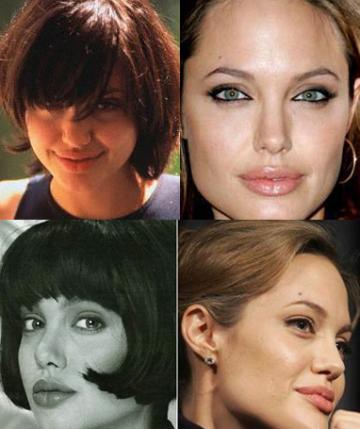 Angelia Jolie: Before & After
ANGELINA JOLIE. Did she or didn't she? I'd say 99% of the women in the world would like to believe Angelina Jolie has had at least some work done to her face. Why? Because it would make of us average lookin' folk feel a little less bad for looking, well, a little average. Duh!
Although there's no proof that the 31-year-old beauty has gone under the knife, CosmeticSurgeryTruth seems to think she had the tip of her nose refined. Cityrag believes Jolie has had a nose job and cheek implants sometime in the last ten years. If you're still on the fence, check out Bastardly.com for more photos of Angelina pre-stardom.
Ashlee Simpson: Before & After
ASHLEE SIMPSON. Who doesn't know about Ashlee Simpson's nose job? Last year, when asked about the widespread speculation in the tabloids, the 22-year-old singer "giggled and told the Associated Press: 'Everybody's already saying it, so I just don't talk about it. I'm like, okay, whatever. It doesn't bother me.'" It did, however, bother Marie Claire magazine, and ignited heated criticism from thousands of Simpson's fans.
The July 2006 edition of Marie Claire featured a pre-nose job of Simpson saying, "Everyone is made differently, and that's what makes us beautiful and unique. I want girls to look in the mirror and feel confident."
As reported by ChinaDaily.com, the editor of Marie Claire, Joanne Coles, fired back in the September 2006 issue when she wrote, "We're dazed and confused – and disappointed – by her choice, too." The magazine received thousands of letters from readers who agreed.
.
Britney Spears: Before & After
BRITNEY SPEARS. My feelings for 25-year-old Britney Spears took a turn for the better during her 2006 interview with NBC's Matt Lauer after Brit was caught on tape driving with her baby on her lap. Britney's defense:
"I can't go anywhere without someone judging me…I did it with my dad. I'd sit on his lap and I drive. We're country."
Okay, sure, so the "We're country" excuse may seem a little redneck, but at least it's honest. Now, if only she would fess up to the plastic surgery she's had since her days as a Mouseketeer.
AwfulPlasticSurgery.com reports, "Britney's nose has gotten smaller and more contoured over the past few years." They also report she's had more than her share of breast augmentation procedures.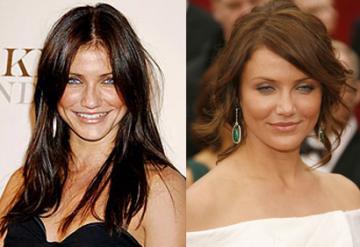 Cameron Diaz: Before & After
CAMERON DIAZ. Last November, 34-year-old Cameron Diaz told People magazine she wanted a nose job.
"'I'm getting it fixed. I can't take it. I cannot breathe at all,' says Diaz, who broke her nose for the fourth time while surfing a few years ago. 'One side of my nose is totally shattered – my septum is basically like a train derailed.'"
Makemeheal.com claims the nose job that Ms. Diaz had done was not only for medical reasons, but also imparted some cosmetic benefits. The website reports, "Photos of the star at the Oscars versus pre-operative photos show a straighter bridge than her older more crooked nose whose bridge was twisted towards the right at the top area of her nose. Diaz wisely did not have her nose made to look to perfect and asymmetrical as part of her charm lies in her not being a classic beauty with perfect features."
It's also reported that Diaz's rhinoplasty was performed by Dr. Raj Kanodia, the same plastic surgeon responsible for both Ashlee Simpson and Jennifer Aniston's new noses.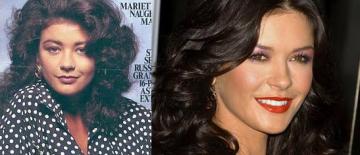 Catherine Zeta-Jones: Before & After
CATHERINE ZETA-JONES. MakeMeHeal.com claims "the star denies having had any plastic surgery, although it is rumored that she had a blepharoplasty (eye lift) in 2001 and that she had previously had her nose done." Yeeeah.com also reports (with pictures) that the lovely 38-year-old actress most recently went under the knife for a post-baby breast enhancement. Whatever she has or hasn't had done, her plastic surgeon deserves a mountain of gold stars (not to mention referrals) for his work. I certainly hope to look that young and all natural when I start planning my 40th!
Cher: Before & After
CHER. What part of Cher's body hasn't been altered? According to BodyLanguage.net, "Cher says the first time she went under the knife was to have a rhinoplasty, a result of seeing herself on film for the first time. 'I looked at myself up there on that screen and thought, I'm all nose.'"
Although the 61-year-old, multi-award-winning actress and musician continually denies having rib removal and cheek implants, she openly admits to being somewhat of a "plastic surgery poster girl." I probably would have used the word billboard instead of a poster, but she still gets my vote for her candor. It also doesn't hurt that Moonstruck (1987) is one of my all-time favorite films.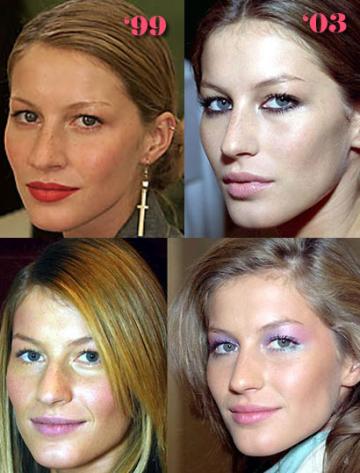 Giselle Bundchen: Before & After
GISELLE BUNDCHEN. According to GoodPlasticSurgery.com, 26-year-old supermodel, Giselle Bundchen has had a little trimmed off her once larger nose. Although Bundchen denies ever going under the knife, I'd still like (or rather need) to believe no one is born that perfect. (Insert BIG jealous sigh here)

Gwen Stefani: Before & After
GWEN STEFANI. CelebrityCosmeticSurgery reports, "Thirty-seven-year-old singer Gwen Stefani has given thought to go under the knife as she ages to maintain her looks according to a recent interview. Stefani states that she is a fan of television shows where surgery is the focal point, confessing to watching a lot of them while pregnant with her son Kingston last year."
Meanwhile, ConversationsFamousPeople.blogspot.com leads me to believe the new mom has already gone under the knife in years past to make her face (her nose, rather) a little more camera-friendly.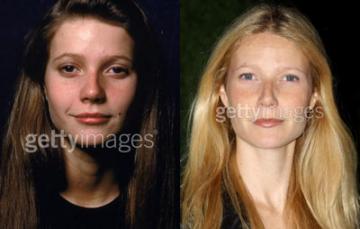 Gwyneth Paltrow: Before & After
GWYNETH PALTROW. "Paltrow had a nose job sometime in her past and this is evident when comparing older photos of her to recent photos which show a thinner nose," states MakeMeHeal.com.
And after giving birth to her two children, Gwyneth is not above having additional plastic surgery procedures. As reported by CelebrityCosmeticSurgery.com, "The Sun claims Paltrow has told pals, 'My stomach is rippling, my breast don't feel good. I've been trying to work it out. I want to do something about it….' septum that was incorrectly done over 12 years ago.'"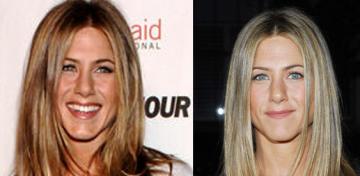 Jennifer Aniston: Before & After
JENNIFER ANISTON. US Magazine reports, "In the early morning hours of January 20, one day after taping a guest spot on pal Courteney Cox's new series Dirt, Aniston's driver dropped her off at Kanodia's office in Beverly Hills. The actress emerged four hours later, but instead of her usual golden glow, she sported fresh black-and-blue bruises along her right eyebrow and across the tip of her nose and upper lip."
Aniston's rep confirms the operation, though claims the procedure was done to, "'correct a deviated
Jennifer Grey: Before & After
JENNIFER GREY. As reported by CelebrityPlasticPics.com, "After her successful role as the ugly-duckling teenager in Dirty Dancing, Jennifer Grey underwent nose surgery (rhinoplasty). They say she had not one but two nose jobs in the hopes that a better nose would advance her career. [And yet] after rhinoplasty she lost her special thing and finally, her career failed to live up to its earlier promise and has relegated her to made-for-television films."
Maybe it's an age thing, but I remember watching Grey in Dirty Dancing and thinking, Frances 'Baby' Houseman has a nose like mine, and look who she ended up with! Yes, the old Jennifer Grey gave me hope of finding a hot "dancing partner" without looking like everyone else on the Big screen. And now… well now I can barely watch free reruns of the 1987 hit without, well, feeling a little self-conscious.
JENNIFER LOPEZ. AwfulPlasticSurgery.com reports that Jennifer's nose was thinned back in 1999. According to one of Google's favorite websites, "She's an example of good plastic surgery because the changes are not extremely noticeable and enhance her looks."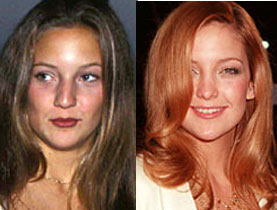 Kate Hudson: Before & After
KATE HUDSON. GoodPlasticSurgery.com thinks bridgework was "the perfect fix for Kate Hudson's once fat pudgy wide nose." Does anyone find it odd that Hudson's old nose looks identical to her current on-again-off-again beau Owen Wilson's?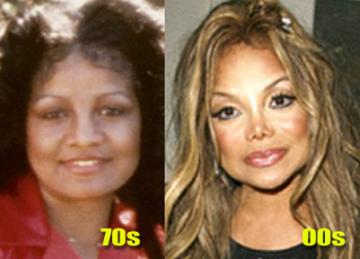 Latoya Jackson:: Before & After
LATOYA JACKSON. Sorry, Ms. Jackson, but you're looking an awful lot like Michael these days.
And CelebrityCosmeticSurgery.blogspot.com agrees. According to their website, LaToya's nose "appears to have been overly thinned. Nostrils can take an unnatural shape like she has when an aggressive alar [winglike] resection is performed. This is a procedure where the bottoms of the nostrils are cut out to make the nostrils smaller and the nose thinner. It can create an appearance where the nostrils appear pasted onto the face. Thinning the nose by removing too much cartilage can make the nasal tip appear pinched."
Lil' Kim: Before & After
LIL' KIM. Whoever says prison doesn't change a person, is clearly unfamiliar with controversial rap star Lil' Kim. The 31-year-old recently finished serving a year behind bars for lying to a federal grand jury about a 2001 shootout outside a Manhattan radio station. MediaTakeOut.com received the following anonymous tip shortly after her release.
"'I just heard that Lil Kim hired a Mexican plastic surgeon to give her a facelift. The person that told me said that the doctor was so unprofessional that he did the face-lift surgery in Lil Kim's bathroom. Now they're scared because Kim looks really bad and they're not even sure that the guy was even a doctor.'"
After viewing additional before and after pics on MediaTakeOut.com, I'm starting to wonder if her "surgeon" was also her cellmate. Some of her new features appear to have been carved with the end of a sharpened toothbrush
.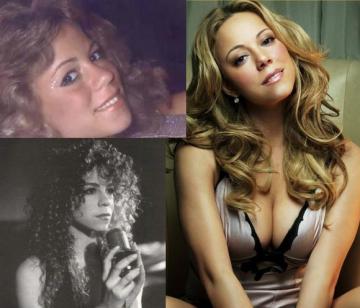 Mariah Carey: Before & After
MARIAH CAREY. Did she or didn't she? It's a wee difficult to tell with all that hair, is it not? Lucky for Mariah, no one is really looking at her nose these days. After going under the knife for her new pair of "Barbie Boobs," I'd say the 37-year-old Ms. Carey has hit a new low in her attempt to "boost" sales.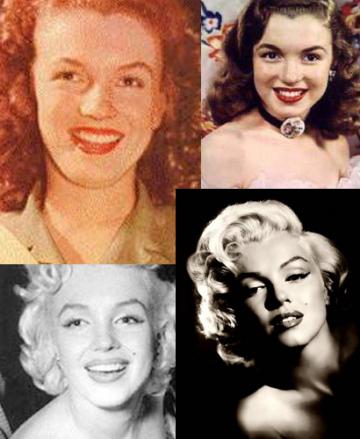 Marilyn Monroe: Before & After
MARILYN MONROE. As reported by CelebrityPlasticPics.com, Marilyn Monroe underwent plastic surgery in 1946, after signing a contract with Twentieth Century-Fox Studios. When an agent suggested Norma should become Marilyn to boost her career, Norma Jean Baker changed her name to Marilyn Monroe, dyed her hair, and underwent rhinoplasty to "make her bulbous nose more feminine and delicate."
Michael Jackson: Before & After
MICHAEL JACKSON. These days, unless Michael Jackson's hanging out on the playground at the School for the Blind, I'd say his face is anything but approachable. Um, hooray? I certainly wouldn't take candy from this man.
According to Wikipedia, Jackson "claims to have had three operations: two rhinoplastic surgeries and the surgical creation of a cleft in his chin. When listing his cosmetic surgery, Jackson often omits to mention the cleft; however, he confirmed this surgery in his 1988 autobiography "Moon Walk.'
In the 2003 documentary Living with Michael Jackson, Jackson stated that he had only two operations to his nose. He justified these operations by stating that they were to 'help [me] breathe better and to hit higher notes'. Jackson also agreed with Martin Bashir, interviewer for the documentary, that he was affected when he was called 'ugly,' and mocked and ridiculed by his relatives for having a 'big nose' in his youth."
A plastic surgeon on the Discovery Channel recently stated that Michael Jackson's nose is actually dying from all the surgery, and now there is speculation that his nose is really a prosthesis.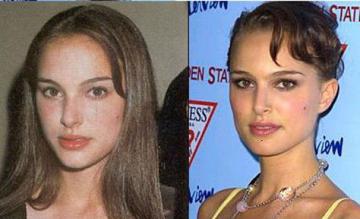 Natalie Portman: Before & After
NATALIE PORTMAN. When an anonymous ex-classmate of the 25-year-old actress posted a little inside dirt on NataliePortman.com, many had all the proof they needed that Portman did indeed get a nose job.
"I was at Harvard the same time she was (though not in the same year)," Natalie's classmate writes, "and would occasionally see her around campus. By the time she graduated, her nose had clearly been altered; not only were the nostrils smaller, but it was smaller and narrower overall."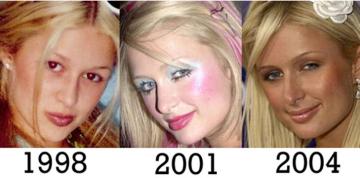 Paris Hilton: : Before & After
PARIS HILTON. According to IMDB.com, "a naturally pleasant-looking girl, Paris Hilton underwent extensive plastic surgery, hair coloring, and tinted contact lenses in her attempt to reinvent herself as "hot". Sadly, money could not buy alteration of the physical attribute she most dislikes about herself: her exceptionally-large feet."
AwfulPlasticSurgery.com claims the 26-year-old socialite "appears to have had two nose surgeries, the last of which left her nose with a weird downturn at the end."
These days, mediocre plastic surgery is the least of Paris' problems. Last month, the hotel heiress was ticketed for driving with a suspended license, violating a previous sentence for reckless driving under the influence. Personally, I would love to see how far Ms. Hilton's "looks" get her in prison if forced to serve 90 days, the maximum sentence for violating her parole if a judge finds her guilty.
Salma Hayek: Before & After
SALMA HAYEK. CelebrityCosmeticSurgery.blogspot.com believes the 41-year-old actress may have undergone "ethnic rhinoplasty." Lucky for her, I'd say most everyone is staring at her other altered assets. According to a 2006 poll from In Touch magazine, Salma Hayek has the third-best rack in Hollywood, under Scarlett Johansson and Jessica Simpson. Voters must not have seen Hayek's before and after pictures on AwfulPlasticSurgery.com. According to the website, "Salma Hayek once had an average size chest, but now her bosoms have taken on stripper-esque proportions. Her big pair seem to be popping out of every low cut evening gown she wears and it looks tacky."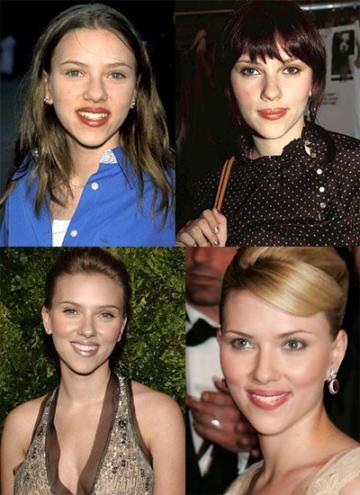 Scarlett Johansson: Before & After
SCARLETT JOHANSSON. Did she or didn't she? Can't seem to get a confirmation either way, but many of her fans on ImNotObsessed.com believe she had it refined in a small way to make it look a little less bulbous.
The face of cosmetics giant L'Oreal admits she has no intention of growing old gracefully. And according to PopCrunch.com, she has recently said as much to the press.
"I will definitely have plastic surgery, "says the 23-year-old, "I don't want to become an old hag! I think if you're comfortable with yourself that's sexy, but if you're not then go for it."
Winona Ryder: Before & After
WINONA RYDER. I can't help but wonder if the 35-year-old Ryder initially got her nose "fixed" with hopes of being a little less recognizable on store security cameras. Ouch! CelebrityPlasticPics believes Winona's nasal tip was thinned when she was younger.