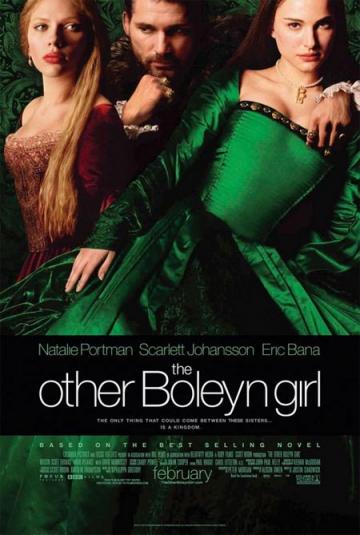 Natalie Portman Portrays Anne Boleyn
Although many would argue that we have lived in a patriarchal society since the age of cavepersons, there is no doubt that female breasts have played – and continue to play – a pivotal role in society. Why they're just so versatile! Breasts are cultural and fashion icons, they've launched social movements, and have provided some of the most famous images in art. Here then, are 10 of the most famous pairs in history (in no particular order).
1. Anne Boleyn
Now starring in a new movie with Natalie Portman and Scarlett Johansson, Anne Boleyn's breasts were married to King Henry VIII for just three years. In 1536 her head was indelicately removed from her body because either a. she could not bear a male heir, b. she was unfaithful, c. she was unfaithful with her brother fergawdsakes, or d. all of the above. Nasty rumors of a sixth finger, a goiter on her neck, and various moles were circulated by courtiers opposed to the king's marriage to Anne because physical imperfections were thought to reflect on one's character or indicate that someone was "touched by the devil." Later, the legend of the mole became one of a third breast. Although unusual, extra or "supernumerary" nipples are not really that rare, occurring in 1 out of 18 people. Most historians believe Henry VIII would not have been attracted to Anne if she did possess any physical deformities, including Nipple III (but maybe he was kinky that way)
.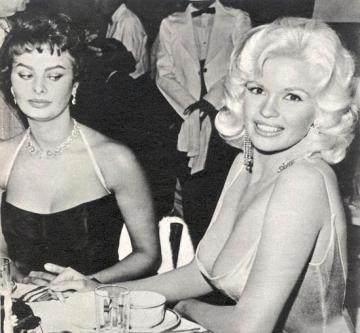 Sophia Loren & Jayne Mansfield
2. Jayne Mansfield
Although not a great actress of her time, Jayne Mansfield was superb at generating publicity for her enormous breasts. By the late 1950s, as her movie career began to dim, Mansfield carefully and repeatedly staged public boob slips that were always caught on camera (think of her as the Tara Reid of her time). The most famous incident occurred in April of 1957 during a dinner party honoring Sophia Loren and was immortalized in a photo published 'round the world. Mansfield's breasts were so much a part of her image that "Tonight Show" host Jack Paar once introduced her by saying, "Here they are, Jayne Mansfield." During her PR boob blitz between September 1956 and May 1957, Mansfield appeared in about 2,500 newspaper photographs and had about 122,000 lines of newspaper copy written about her. One small bit of trivia you may already know: "Law and Order SVU" star Mariska Hargitay is Jayne Mansfield's daughter.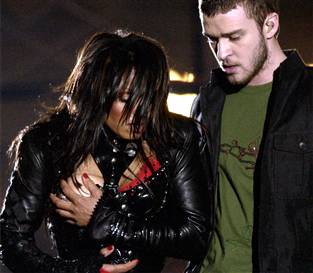 Janet Jackson's Wardrobe Malfunction
3. Janet Jackson
Miss-Jackson-if-you're-nasty's boob flash (and uncomfortable-looking nipple adornment) ignited a firestorm of controversy after it appeared live during Super Bowl XXXVIII on February 1, 2004. Along with Damita Joe's "wardrobe malfunction," the salacious nature of the entire halftime show led to a crackdown and widespread debate on perceived "indecency" in broadcasting. Ultimately, the Federal Communications Commission levied a record $550,000 fine to CBS, as well as increased the fines per indecency violation from $27,500 to $325,000. Despite denials from both Jackson and her partner-in-boobage, Justin Timberlake, that the flash was accidental, Jackson ended up taking the heat for what most people believed was deliberate tit-illation.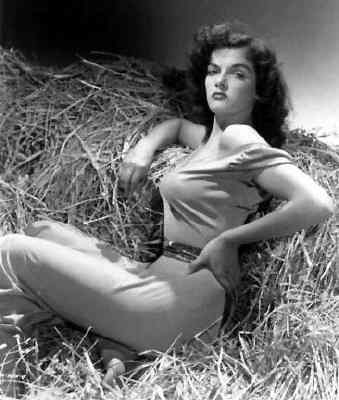 Jane Russell
4. Jane Russell
In 1940, voluptuous actress Jane Russell was signed to a seven-year contract by millionaire Howard Hughes and made her film debut in "The Outlaw." Although the film was completed in 1941, it faced a lengthy delay for release because of censorship issues surrounding the way her astonishing rack was portrayed. The film eventually passed and had a general release in 1946. During production, Hughes, with a background in aviation and engineering, designed and constructed a prototype underwire bra (the first of its kind) especially for Russell's 38-D pair. However, according to Russell's 1988 autobiography, she decided the bra fit poorly, and ended up wearing her own on the film set. Hughes apparently never knew the difference.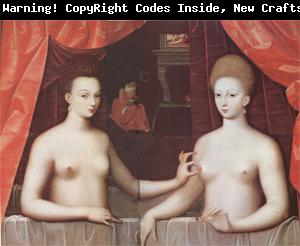 School of Fontainebleau
5. The Twisted Renaissance Nipple
In spite of severe Catholic censorship of nude paintings, a group of 16th-century artists, known as the School of Fontainebleau, produced many works of art at the behest of the French king Francis I. One of these paintings, now on display in the Louvre, is "Gabrielle d'Estrees and One of Her Sisters." The models are thought to be Gabrielle d'Estrées (1571-99), the favorite of Henry IV (1553-1610), and (duh) one of her sisters: the Duchess de Villars or Madame de Balcony. The artist of the piece is unknown, as well as what the hell he was thinking when he painted the "oddly affectionate gesture" showing Gabrielle's sister pinching her right nipple. And you thought "Girls Gone Wild" was a new phenomenon.

Carol Doda
6. Carol Doda
Legions of men across the country probably cannot imagine their lives without topless strippers and lap dancers, and they all have Carol Doda to thank. On June 19, 1964, then 20-year-old Carol Doda became the first performer to dance topless at the Condor Club in the North Beach section of San Francisco. Within two months of starting her topless act, all other clubs on the same street began offering topless waitresses and dancers, and the rest of America soon followed suit. Doda's "does" were one of the first pairs to be famously surgically enhanced, going from a size 34B before a series of 44 silicone injections increased her to a size 44D. Doda retired from stripping in the 1980s and now runs "Carol Doda's Champagne and Lace Lingerie Boutique" in San Francisco. Of course, she does.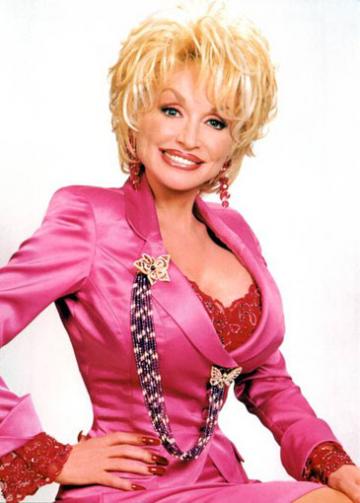 Dolly Parton
7. Dolly Parton 
The prolific singer/songwriter and prodigiously endowed Dolly Parton says her breasts are more famous than she is. The 62-year-old performer was recently quoted as saying, "My breasts have served me well – I don't know if I'm supporting them or they're supporting me. But of course, I've had them jacked up a bit. And they're part of the persona." Parton's breasts are so deeply ingrained in popular culture that Dolly the cloned sheep was actually named for her, as it was cloned from part of a mammary gland. Parton has made ample jokes about her ample bosoms, once saying, "Yep they are mine! Bought and paid for!"

Topless Bathing Suit
8. The Topless Bathing Suit 
Among the many things swinging in the Sixties were the breasts exposed by the "topless bathing suit" created by futurist designer Rudi Gernreich. Gernreich was born in Vienna in 1922 and fled to the U.S. in 1938. In 1948 he began working as a fashion designer and by 1960 had earned the prestigious Coty Award for American designers. Gernreich had a flair for knitwear and futuristic designs (in fact he created the costumes for the television show "Space:1999"), but he is best known for designing the topless bathing suit. Rather like trunks with suspenders, the suit had a high waistband and straps which left the breasts exposed. It was introduced in 1964 and was met with a mixture of shock and awe worldwide.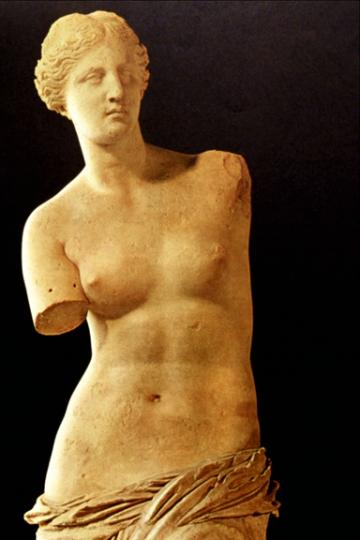 Venus de Milo
9. Venus de Milo
Possibly the most famous topless amputee (ooh, is that tasteless?), the Aphrodite of Milos – Miss Venus de Milo, if you're nasty – is perhaps the most famous work of ancient Greek sculpture. The statue was originally carved from at least six to seven blocks of Parian marble – one each for the torso, legs, each arm, left foot, and one for the original plinth on which it stood – which explains why it was so easy for the arms to break off. Also missing is the garish coat of paint and accenting jewelry that would have adorned the statue, as was customary at the time. Perhaps a classic string of pearls? FABulous.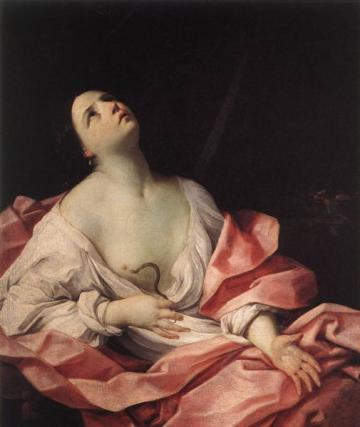 Cleopatra
10. Cleopatra
And speaking of fabulous, was there ever a more a queen more fabulous than Cleopatra? (Okay, beside Elton John). Lover of both Julius Caesar AND Mark Antony, she was the last pharaoh of Ancient Egypt. Although we think of Cleopatra as Egyptian, her primary language was Greek, as Alexander the Great had established a Greek-speaking aristocracy in Egypt some 300 years before. Tragically, Cleopatra's breasts are famous primarily because of her death. After Antony and Cleopatra were defeated by Octavian, their Roman rival (who ushered in the Roman Era in the eastern Mediterranean), she committed suicide supposedly by clasping a poisonous asp to her breast.