It's good to have ambition: becoming the first female president… learning to speak nine languages… or, you know, possessing the largest breasts on the planet. The following ladies apparently never met a bag of saline or silicone they didn't want to take home, which is why they make Pamela Anderson look like Kate Hudson. We salute their commitment to being the best at the breast, but one question still lingers:

Lolo Ferrari World's Largest Breasts
Lolo Ferrari
Life seemed pretty good for French-born Lolo Ferrari. After multiple operations-the reported number ranges from 18 to 30-the former porn star was recognized by the Guinness Book of World Records (for a number of augmentations) and achieved cult status. But things went bust in 2000 when Ferrari was found dead under suspicious circumstances; was it suicide, murder, or-dun dun dun-those darn breasts? Ferrari's husband, who suggested that she may have suffocated under the weight of her own breasts, was arrested and then released, and the cause of death still remains foggy. What is clear is that Ferrari's ticket to fame turned against her in the end. Says London's TheGuardian newspaper, "Her mammoth breasts, designed by an aircraft engineer, held three liters of surgical serum each. She had difficulty breathing, could not sleep on her stomach or back, and was afraid of flying because she thought they might explode." Reports Wikipedia.com, "She had to wear a specially engineered brassiere size 54 J, and as a result of her many surgeries she suffered from a number of medical afflictions and lived with a heavy regimen of drugs."

Maxi MoundsThe World's Largest Breasts
Maxi Mounds
If it weren't for Maxi, the Guinness Book of World Records wouldn't even have a category for "World's Largest Augmented Breasts." According to Wikipedia.com, this pioneering porn star fought for-and eventually won-the distinction for her 42M (that's 32 inches under and 60.5 inches around) knockers. Still, Maxi hasn't let the success go to her, ahem, head. On her website, MaxiMounds.com, she writes, "I know I won't hold the record forever but I'm happy that I helped to create the category for me and the other girls to follow in the future." Maxi-who lists her current measurements as 156MMM-26-36-also explains that she has "silly string" implants which continue to grow after implantation.
Norma StitzThe World's Largest Breasts
Norma Stitz
Any girl can get implants, but Norma Stitz's (get it?) low-hanging breasts have been recognized by Guinness as the largest natural breasts in the world. Yep, folks, they're real. According to Imdb.com-as you might've guessed, Norma's appeared in some, er, films. At the time of her record (1999), Norma's measurements were 70-48-52, with each breast weighing 28 pounds and a 48V bra size. Her breasts now reportedly weigh 35 pounds apiece and measure 72 1/2 inches. In other words, her breasts combined weigh almost as much as an Olsen twin. I just posted a new informative post about the type of laser eye surgery at http://body-philosophy.net/types-of-laser-eye-surgery-and-their-benefits/ which is equally informative as this post and worth reading.
Chelsea CharmsThe World's Largest Breasts
Chelsea Charms
Billing herself as "America's Bust Sweetheart," Chelsea Charms has endured three breast augmentations, including string implants, to achieve her hefty 153XXX-23-34 measurements. On her website, ChelseaCharms.com, the Twin Cities native (ha!) claims that each breast weighs 26 pounds, and, because of the string implant, they're still growing. She also has to have her bras custom-made. When asked if her jumbo breasts get in the way, Chelsea answers, "Not so much, except when shaving my legs, painting my toe nails or maneuvering through tight spaces. However, I should note that during the first few months after having the third and final jumbo-boost, it did take a few adjustments with regards to eating and other daily tasks that I once took for granted (there's nothing more annoying than having food disappear into your cleavage)."

Minka World's Largest Breasts
Minka
This Korea-born adult film star started out as a tennis player. Somehow we think her giant breasts might have hindered her serve. Instead, she's won awards like AVN's "Big Bust Video of the Year" and Exotic Dancer Magazine's "Best Big Bust Entertainer of the Year." Take that, Wimbledon! On MinkaXXX.com, Minka claims to be "the largest-breasted Asian in the world, bar none!" Wikipedia.com cites her measurements (achieved through string implants) as 70HH-22-35, with a bra size of 44KK.

Sabrina SabrokThe World's Largest Breasts
Sabrina Sabrok
Watch out, girls! Sabrina Sabrok is a woman with a plan. The Argentinean-born Mexican television star stirred up controversy last year when she announced her plans to undergo a 14th breast enlargement in order tohave the largest breasts in the world. Sabrok, who lists her measurements as 52MMM-21-40 on SabrinaSabrok.com, was warned that to do so would endanger her health. Reports ImpactLab.com, "Sabrok…is already a size 42 triple G but wants to go on to be a 42 triple X, reports Las Ultimas Noticias. A spokesman for the Plastic Surgeons' Association of Argentina warned the weight would be too much for her body. He said: "She is risking her health because there needs to be balance on the body and she will lose that if the breasts go too big." Sabrina's solution! According to AnythingHollywood.com, she plans to get butt implants to even herself out. Smart thinking.

Wendy WhoppersThe World's Largest Breasts
Wendy Whoppers
The name says it all. Ms. Whoppers started out as a 34B; four enlargements later, she was a 34H. In an interview with Behavior Magazine, the adult film star described her transformation. "With 3000 cc implants, my advertised measurements were 80 HHH; my actual bra size was 34H," she said. "We have to add more numbers to the advertised measurement because men do not understand how bra measurements work. They are under the false impression that the number has something to do with the size; in fact, the number is only the inches around the rib cage under the breasts, so that never changes unless you gain weight. The cup size is the only measurement that tells breast size. So if I had advertised myself as a 34H, then guys would have thought that was small." Perhaps-if they were blind… and didn't have hands. Though Wikedia.com claims that she's had her breasts reduced since retiring from films, WendyWhoppers.com lists her measurements as 80HHH-21-34.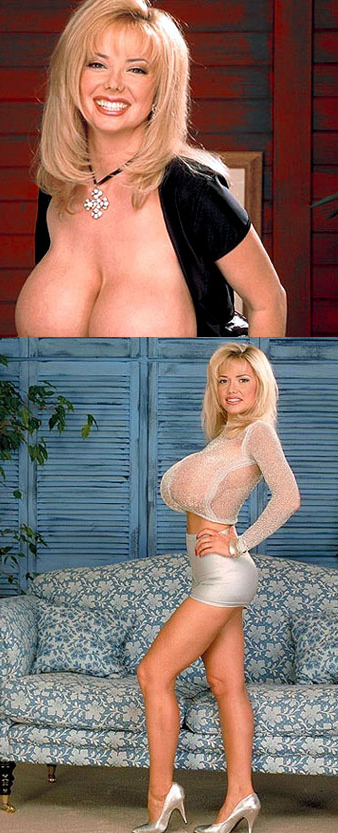 Traci ToppsThe World's Largest Breasts
Traci Topps
Though Traci Topps retired a few years ago, she remains a popular big bust icon. Adult site Danni.com lists her measurements as 36HHH-24-36, and with film credits like Chloe's Busty Conquests, The Best of Bosom Buddies, Big Boob Mamathon, and Big Bust Strippers 2, we believe it.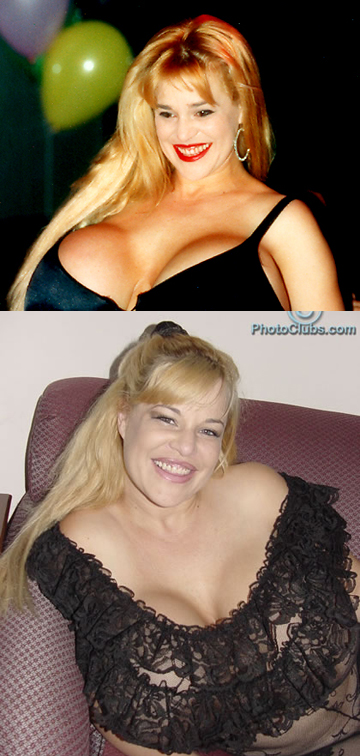 Crystal StormThe World's Largest Breasts
Crystal Storm
There's no denying that adult entertainer Crystal Storm has a massive chest; even Wendy Whoppers recognizes her achievements to cleavage. The question is, just how big are those boobs? Wikipedia.com reports that Crystal got into some legal problems after listing her measurements as 121 XXX-24-36; turns out she was talking centimeters, not inches. For further clarification, Imdb.com says that the star of Big Busty 44, Big Busty 50, and The Greatest Big Bust Video Volume 2 boasts breasts that "weigh 18 and 20lbs., and her (unexaggerated) bust measurement is 50″."

SaRenna LeeThe World's Largest Breasts
SaRenna Lee
In the world of adult entertainment, SaRenna Lee is best known for two things: a striking resemblance to Marilyn Monroe, and enormous breasts, courtesy of implants. MrBra.com lists SaRenna's bra size as 44H after surgery; it was already a voluptuous 32D sans implant. We guess bigger is better though.