Step aside, Lisa Rinna. It's time to hand over your "Freakishly Massive Lips" trophy to someone new…actress Saffron Burrows, of "Boston Legal" and "The Bank Job" fame.
As photos from The Daily Mail show, the 35-year-old British actress showed up to the premiere of "The Bank Job" – co-starring Jason Statham – with gargantuan lips that appear to have been stung by a swarm of bees. To make matters worse, her cheekbones are so sunken and abnormal-looking (because of weight loss? cheekbone implants?) that the newspaper quipped that Burrows "seems to have gone for the Joker look."
No kidding.
Click over to see before and after photos of Saffron Burrows, which should make it clear that this is more than a matter of simply overdosing on some DuWop Lip Venom.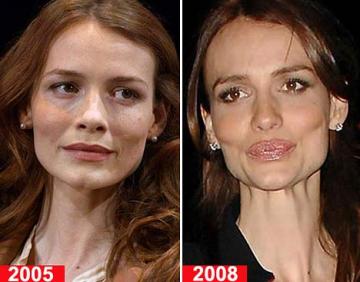 Saffron Burrows Before and After
The photo on the left dates back to 2005 when Burrows was clearly collagen-free. The photo on the right is from 2008.