If you're going to make it in Hollywood, a little nip/tuck here and there is par for the course. Just be sure your plastic surgeon knows what he or she is doing, because for every Ashlee Simpson success story there's a badly botched Tara Reid lurking under some bandages. Good plastic surgery takes the years off "naturally"; bad plastic surgery can make the face look warped and stack the years back on (with a dose of ugly thrown in for good measure). Guess which ones these scary-looking celebs have had?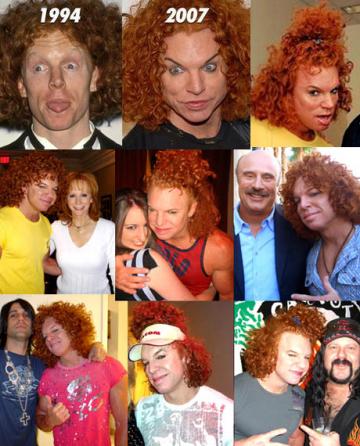 Bad Celebrity Plastic Surgery: Carrot Top Awful Plastic Surgery
Celebrity Plastic Surgery: Carrot Top
It's hard to imagine ever longing for the old Carrot Top, but the sight of the flame-haired comedian's new bulked-up body and Spandex-tight face will do it. Though Carrot Top's never exactly been a babe magnet (or particularly funny), his altered face is starting to make him look like Harriet the red-headed next-door neighbor from "Small Wonder."
Dr. Anthony Youn of CelebrityCosmeticSurgery.blogspot.com speculates that Carrot Top has had a combination of Botox and a brow lift, in addition to laser treatments or chemical peels for his skin. Throw in some eye liner and a gym membership and you've got one scary-looking dude.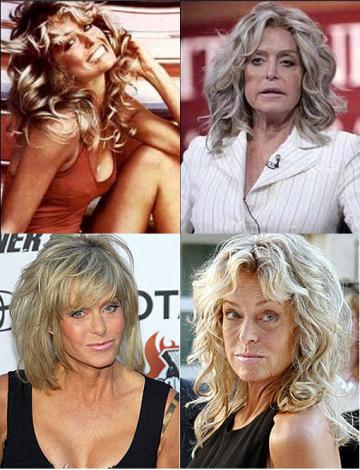 Bad Celebrity Plastic Surgery: Farrah Fawcett Awful Plastic Surgery
Celebrity Plastic Surgery: Farrah Fawcett
If at first, you don't succeed, try, try again. That appears to be Farrah Fawcett's motto, as the former "Charlie's Angel" pin-up has reportedly undergone more plastic surgery in an effort to combat previous shoddy work.
"The original Charlie's Angel appears to have had a substantial bout of cosmetic surgery to correct the damage caused by previous operations," The Daily Mail reported last year.
Plastic surgeon Dr. Lucy Glancey agreed, telling the British newspaper that "Farrah looks to have had her upper and lower eyelids done and very definitely a mid to lower face-lift. She may well have had her neck tightened as well as Botox injected into the crow's feet area. All of these procedures are topping up on work carried out in previous procedures.
"Two years ago it looked as if her injected fillers had gone wrong but today she looks a lot better because fillers fade naturally over time, allowing her to avoid having any corrective surgery."
Previously, the actress's cosmetic enhancements had given her an aged, very unnatural-looking appearance.

Bad Celebrity Plastic Surgery: Rose McGowan Awful Plastic Surgery
Celebrity Plastic Surgery: Rose McGowan
Actress Rose McGowan claims she had no choice but to get cosmetic surgery on her eyes after a severe cut. Unfortunately, it looks like the doc who performed the surgery mistook "eyes" for "the entire face," because Rose now looks significantly different these days – and not for the better.
"Anyone who's seen Rose McGowan lately know she's had her face sliced, diced, julienned and then secured back to her skull rather tightly," says A Socialite's Life. "She looked like a burn victim in "Grindhouse." She wasn't playing one."
Since the surgery, Rose has traded in her foxy, fresh-faced appeal for an ultra-tight, Michael Jackson-esque look that's anything but youthful. Not surprisingly, it's lost her some major roles, including the female lead in Speed Racer. Good thing she has a director fiancé to keep her employed!

Bad Celebrity Plastic Surgery: Jessica Lange Awful Plastic Surgery
Celebrity Plastic Surgery: Jessica Lange
Back in the day, Jessica Lange was the second coming (albeit a more sensual, earthier version) of Grace Kelly. Now the famous blonde could pass for a senior citizen, and it appears that her use of plastic surgery is to blame. (Okay, she is pushing 60, but try telling that to Jaclyn Smith.)
Here's what plastic surgeon Dr. Anthony Youn has to say about Jessica's tired and tight appearance: "It appears to me that she has had a pretty aggressive browlift, causing her eyebrows to be so high that she looks surprised and unnatural. She likely has Botox in her forehead as well. On the bright side with Jessica Lange, her neckline looks great and is likely the result of a well-done facelift."
By resorting to plastic surgery Jessica's face has lost that gorgeous softness that made you believe Dustin Hoffman would actually become a drag queen just to get close to her.

Bad Celebrity Plastic Surgery: Mary Tyler Moore Awful Plastic Surgery
Celebrity Plastic Surgery: Mary Tyler Moore
There's something about Mary…like the way her ear-to-ear smile makes her a shoo-in to play the Joker should Heath Ledger bow out of the next Batman film, or the fact that her ultra-tight face could double as a trampoline. And when did she become Asian?
Needless to say, Mary's made the rounds on AwfulPlasticSurgery.com, which says, "There's a vast difference between her late '70s and her late '90s/early '00s face. Had she left everything alone and just aged naturally, she would have looked nice, kind of like Mary Tyler Moore's mother. Alas, trying to stop time, she had a facelift which destroyed the delicate plains of her face. Strangest of all, she had a nose job."
Rather than making her look younger, Mary's surgery exaggerates her aged appearance. It's not youthful – it's just scary. And considering that the woman is married to a surgeon, you'd expect better work.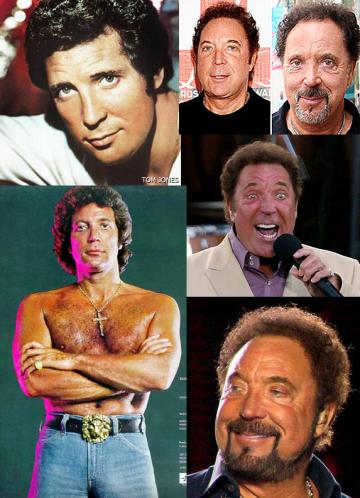 Bad Celebrity Plastic Surgery: Tom Jones Awful Plastic Surgery
Celebrity Plastic Surgery: Tom Jones
Tom Jones' warped face is proof that plastic surgery can definitely bite the hand that feeds it. After overdosing on a few nips and tucks over the years, the Welsh crooner says a Beverly Hills plastic surgeon told him to avoid getting any more work done lest his face collapsed. So Tom has been laying off – but the combination of pruny eyes and a history of surgery hasn't done him any favors.
"He has very prominent dynamic lines caused from where the muscles in the face contract and tighten, as well as very pronounced laughter lines," plastic surgeon Alex Karidis told The Daily Mail. "But no amount of surgery could eradicate these lines and at his age, the last thing I would recommend is more surgery. A spot of Botox is the only thing that might help reduce the wrinkling." Can we stop throwing our panties at him now?

Bad Celebrity Plastic Surgery: Donatella Versace Awful Plastic Surgery
Celebrity Plastic Surgery: Donatella Versace
Holy Gianni! Donatella Versace clearly has never met a cosmetic procedure she didn't love. And if you think her Muppet-gone-pruny face looks bad, you should see photos of her severely misshapen fake breasts (or better yet, don't, and keep your lunch down).
As with a lot of extreme plastic surgery makeovers (cough – Joan Rivers), Donatella's face is so distorted that she almost doesn't look human. She could be 30, or 300 (she's actually 52). And as wrinkles and other signs of aging naturally occur, her appearance becomes more and more like melted plastic.
Plastic surgeons speculate that Donatella has had a nose job, Botox, and collagen lip injections (um, duh).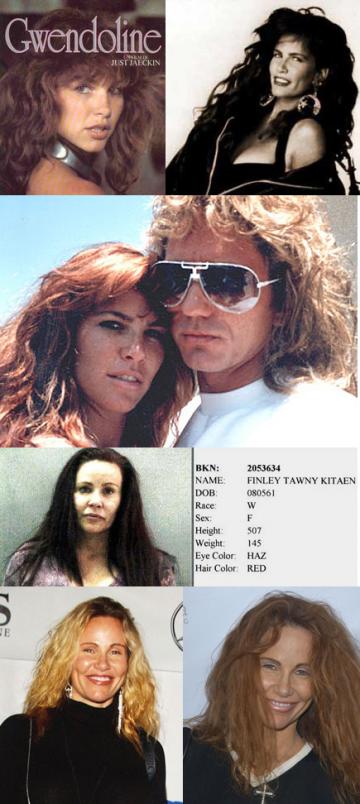 Bad Celebrity Plastic Surgery: Tawny Kitaen Awful Plastic Surgery
Celebrity Plastic Surgery: Tawny Kitaen
Nobody writhes on the hood of a car better than actress Tawny Kitaen, forever immortalized in Whitesnake's music videos. Girls wanted to be her, and guys wanted to have her.
Now? Not so much.
The feisty redhead has apparently gone under the knife and the results aren't pretty. Her newly frozen face makes her look generic and lacks the sexy exotic appeal she used to have. Now the video vixen looks like your average 40-something Beverly Hills mom.
Dr. Anthony Youn of CelebrityCosmeticSurgery.Blogspot speculates that the 46-year-old Tawny has had a brow lift with Botox, upper and lower eyelid lifts, cheek implants, and lip augmentation. Heck, she doesn't even have red hair anymore!

Bad Celebrity Plastic Surgery: Bruce Jenner Awful Plastic Surgery
Celebrity Plastic Surgery: Bruce Jenner
Bruce Jenner is an excellent example of a retired athlete having too much time (and money) on his hands. The former Olympian – father of "The Hills" regular Brody Jenner – appears to have melted down his gold medals and used them to buy some seriously shoddy surgery. Either that, or he's been taking estrogen shots because the dude is starting to look like a lady.
According to AwfulPlasticSurgery.com, Bruce has had multiple facelifts, a nose, and chin and cheek implants. What he really should be cutting is that hair! Eesh.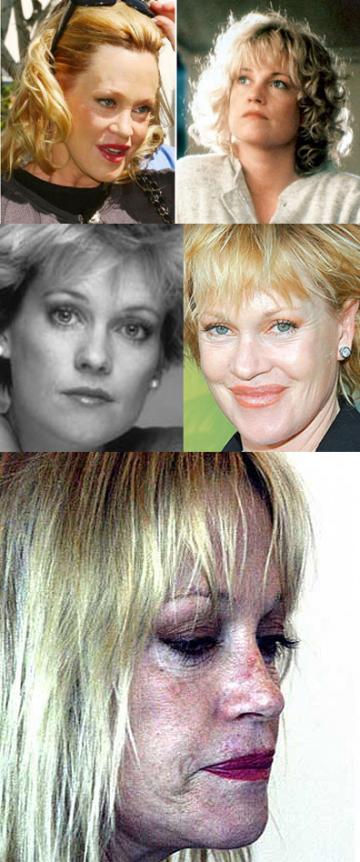 Bad Celebrity Plastic Surgery: Melanie Griffith Awful Plastic Surgery
Celebrity Plastic Surgery: Melanie Griffith
You know you have a plastic surgery problem when your own husband is begging you to stop going under the knife.
"I said to her, 'I want to see you growing old and I will grow old with you too, and I don't care," Antonio Banderas says of his surgically altered wife, Melanie Griffith. "I like her the way she is. Wrinkles are beautiful."
After multiple eye jobs and collagen lip implants, Melanie looks completely different from her younger self. It's also clear that the procedures are taking their toll, as her face is an unsightly blend of new wrinkles struggles to peek out through her unnaturally taut skin.