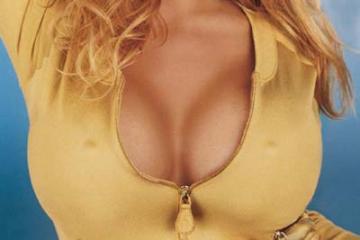 Guess Who These Twins Belong To?
If you've seen photos of Heidi Montag from MTV's The Hills lately, you can understand how breast augmentation can suddenly throw anyone into the media spotlight, despite having little or no talent. One day you're a nobody with a wonder bra and a dream; and then suddenly you literally bust into the limelight and never look back. It's questionable whether all the celebs that made this list actually look better. However, they have allowed us to engage in a boob-tastic debate about what really makes a star, a star!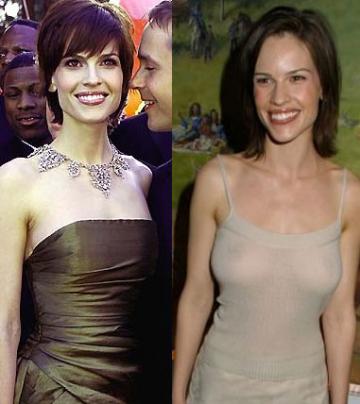 Hilary SwankCelebrity Plastic Surgery 
10. Hilary Swank, 32
There was a time in my life when I thought Hilary Swank was a hot dude with amazing Pecs. That was, of course, before she "blossomed" into a gorgeous actress with amazing boobs. GoodPlasticSurgery.com praised the Oscar-Winning actress's other trophies in a November 2005 post.
Although I'm not sure if I prefer Hillary the hot actor or Hillary the busty actress (which is somewhat scary on my part), I certainly envy Swank's all-woman rack. According to Wikipedia, Swank recently noted, "I feel like in the last couple of years I've really come into my own and a lot of that has come from figuring out who I really am and what I want in life." And by the looks of her new chest, I'd say the Million Dollar Baby certainly got her money's worth!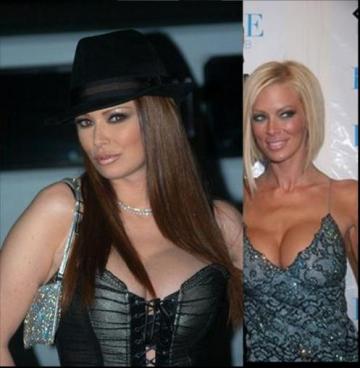 Jenna JamesonCelebrity Plastic Surgery
9. Jenna Jameson, 33
As reported by TheSuperficial, the Queen of Porn is 5'7″ and weighs a shocking 92 lbs. This means that if you subtract the weight of her massive boobs and over-plumped lips she is most likely like 72 lbs. Visually she is two bags of sand on a chick-o-stick. My overwhelming desire to force-feed Jenna aside, however, I gotta give the actress turned XXX entrepreneur props for setting the tits-of-the-trade standard. Of course, if she were a CPA or Dentist, I might feel a little different.
According to an April 2007 post on CelebrityCosmeticSurgery.blogspot.com, Jenna Jameson states that she "was diagnosed and treated for Malignant Melanoma of the back in November 2004. Before she could get treatment for the melanoma, a blood test revealed that she was two months pregnant. She, unfortunately, miscarried, possibly due to the stress of cancer." Wikipedia reports that Jenna's mother died of skin cancer at age 33 (Jenna's current age) before her daughter's second birthday.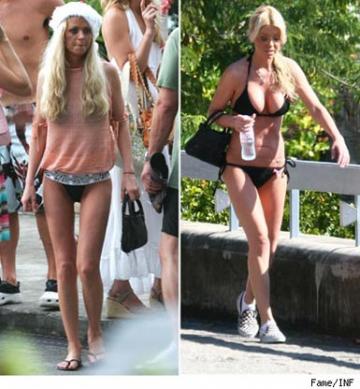 Tara ReidCelebrity Plastic Surgery
8. Tara Reid, 31
I want to caveat this entry by stating in no way do I endorse Tara Reid's boobs or think they look good. Little surprise then, that she also ranks on our Top Ten Worst Celebrity Boob Jobs! list. However, without Tara Reid's infamous implants she would have fallen into oblivion after American Pie, thus making her first or second botched boob job (I lose count) the best thing that ever happened to the B-movie actress, earning her a spot on this list.
Reid is an example of how botched plastic surgery can result in a domino effect with lasting psychological implications. According to Us magazine, "actress Tara Reid revealed that she underwent reconstructive surgery on September 6, 2006, to repair the damage done by a 2004 joint implant-liposuction procedure," which left her with visible (understatement) scar tissue around her nipple. Reid's plastic surgeon, Dr. Steven Svehlak, performed a procedure called a doughnut mastopexy to correct her original breast augmentation. Lucky Her! Unfortunately, her first boob job has left us both with permanent scarring. The first time I saw Tara Reid in a bikini I hyperventilated, turned green then white, and eventually passed out. Since then, I have been unable to step foot near a pool, for fear I will run into Tara Reid in a bikini and have the same reaction.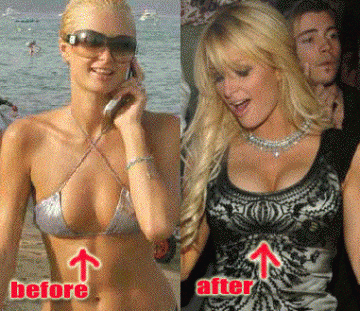 Paris HiltonCelebrity Plastic Surgery
7. Paris Hilton, 26
According to Wikipedia, Paris Hilton is a very serious actress, model, author, singer who has not admitted to having her boobs done. And in the May 7th, 2007 issue of In Touch magazine, Paris unsuccessfully attempts to, ahem, stuff the rumors. "Everyone keeps asking me if I have had surgery…" Paris admits. "I have a new lingerie line called Paris Hilton coming out. There is a bra that is so amazing. I have all the samples, so I'm wearing them. Instead of getting surgery, a girl can just buy my bra."
Two words: False Advertisement… literally.
Recently, the hotel heiress has been traipsing around LA showing more cleavage than my toes in Jimmy Choo heels on a Saturday night. I highly doubt that plush pink falsies sewn into some tacky floral bra could have such an outstanding effect. And, yes, that's my version of a compliment.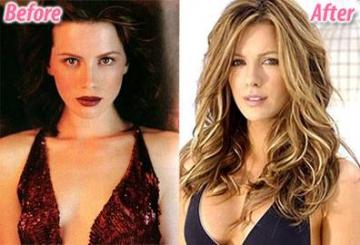 Kate BeckinsaleCelebrity Plastic Surgery
6. Kate Beckinsale, 33
I'm not even sure if that woman on the left is Kate Beckinsale. Regardless I am sure that is her on the right and she looks gorgeous.
In a 2006 post, GoodPlasticSurgery.com speculates that Kate Beckinsale may have had her breast implants revised. According to Dr. Tony Youn, CelebrityCosmeticSurgery.blogspot.com, "numerous photos on the internet… show what appear to be capsular contractures of her previous breast implants. This is what happens when the body creates excessive scar tissue around breast implants, causing them to look round and hard. It happens to a small percentage of women, although in the past upwards of 80% of women with first-generation silicone gel implants developed this dreaded complication. The 'after' photos show a considerably smaller bust." Thank God…
As reported by Wikipedia, in 2006, Beckinsale was ranked #78 in FHM's "100 Sexiest Women in the World."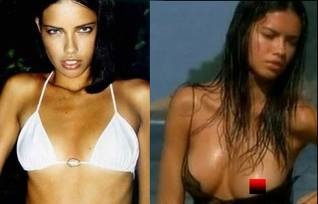 Adrianna LimaCelebrity Plastic Surgery
5. Adriana Lima, 25
As if this woman was not annoying the world enough with her utter perfection, semi-cute accent, and severely over-plumped lips… this Victoria's Secret model had to go and plump up her boobs. If you're not convinced she had her boob's upgraded, check out these shots on GoodPlasticSurgery.com.
Now, I'm a huge fan of Victoria's Secret, but I think Adriana may have misunderstood the Miracle Bra entirely and her status as Angel. The Bra performs the miracle, not Dr. 90210. Regardless, my friends at The Bastardly have posted some unbelievably gorgeous pics of the Brazilian beauty in all of her splendor.
As reported by Vogue.co.uk, in 2006, GQ magazine named Lima "The World's Most Voluptuous Virgin." If I had Lima's looks – before or after – I probably would have held out, too…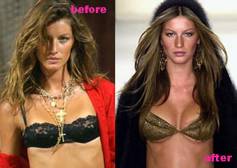 Giselle BundchenCelebrity Plastic Surgery
4. Giselle Bundchen, 26
I heard that the excess flesh taken from Giselle's nose job was actually injected into her boobs. OK that's a lie. Whatever. I don't know what to say besides she is "very sexy" and may be, as Wikipedia states," the world's richest supermodel, with a net worth of $150 million". And according to a March 2007 post on UsMagazine.com, Giselle's also expecting child with boyfriend, New England Patriots quarterback, Tom Brady.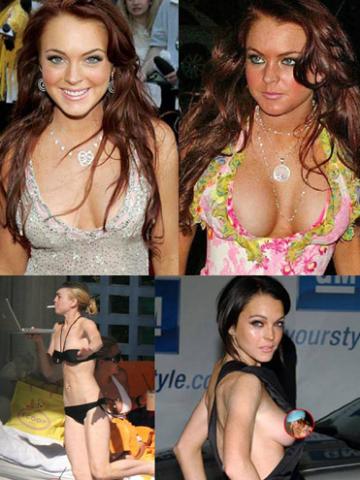 Lindsay LohanCelebrity Plastic Surgery
3. Lindsay Lohan, 20
For the first time, I think Lindsay Lohan's body looks awesome. She's no longer a chunky freckled kid with a premature boob job (Top Ten Worst Celebrity Boob Jobs!), or the poster-girl for bulimia. Although in typical Lohan fashion, Lindsay denies ever having her boobs done, AwfulPlasticSurgery.com speculates she's undergone more than one procedure.
In my opinion, Lohan is either delusional or a complete liar. (I think it's the latter.) For example, remember when Lindsay planned a trip to Kenya last year to help people? It never happened. And when she came clean to Oprah, expressing that she is "not a party girl"? She's out every night of the week! Whether you believe Lindsay's a Troubled Saint or a Terrible Liar, the-latest-boob-job-Lohan-never-received looks pretty darn good if you ask me! Would someone please find me the name of her non-existent plastic surgeon?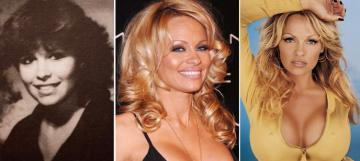 Pamela AndersonCelebrity Plastic Surgery

2. Pam Anderson, 39
While some might trash her melons, I always say, "the bigger the fruit, the more potential for loot." Actually, I've never said that before, and I'm kind of mortified that I just did.
Pamela Anderson would not be where she is today were it not for her savvy business skills and – of course – her trademark assets. Yes, breast augmentation has been good to the former Playmate, actress, model, mother, and activist. And unlike those lesser celebrities who continually deny having had surgery, Anderson thanks her breasts (and her doctors) by speaking out on behalf of the use of silicone implants. Wikipedia quotes Pam as saying, "We think the FDA should admit it had no basis for banning silicone implants. It's time to make a clean breast of it. I wash mine every day."
Recently Pam did a cameo in the movie Borat: Cultural Learnings of America for Make Benefit Glorious Nation of Kazakhstan. Allegedly, her role in the movie fueled a blowup by hubby Kid Rock that ultimately was the catalyst of their breakup.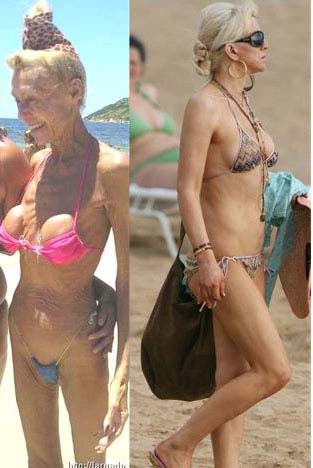 Grandma (Courtney Love)Celebrity Plastic Surgery
1. My Grandma (the Ultimate Celeb according to Me), 112
Granny, seen far left on Holiday in Rio. Thanks for the postcard, Grandma. You look fabulous!
As an aside, Grandma mentioned in her postcard that she keeps being referred to as Courtney Love (on right). I'm not sure what that's about…